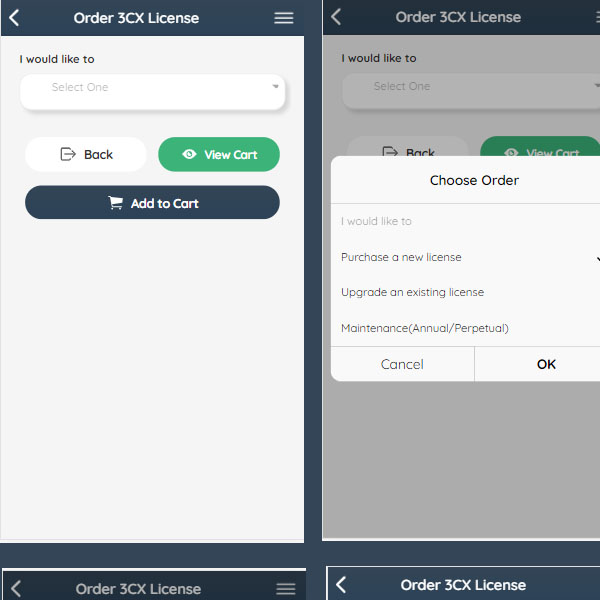 Now online order of 3CX license purchase is just a few clicks away for our partners
Cal4Care, focused forever in developing technology to stay ahead of the trends, proudly offers QR Scanner access for Cal4Care CMS/Customer mobile app. The app comes with the expertise to crush the complexities of collaboration and can be smoothly integrated in the user's mobile. From now on, the user can enjoy the facility of two-way access (from web to mobile and from mobile to web) for better and unified communication.
"Cal4Care CMS is bundled with several high-tech features, especially designed and delivered to pull off greater user experience and increased business relationship" said, Manikandan Chockalingam, the founder of Cal4Care group.
Cal4Care has created a Customer Management System to help the clients to quickly access deal registration, 3CX purchase, support, and to know about all their business transactions with us. The resellers can check out the price list of all products, their unpaid amount, and view their referral amount for every month. Any revises related to their local and international bank accounts, and Paypal can be updated. In the Invoice tab, the clients can view their unpaid invoice amount and make payments for multiple invoices through three types of payment gateways: Paypal, OCBC, and by using multicurrency like SG/USD/INR/MYR/EUR/JPY/ THB. Also, they can view the paid invoices, download the invoice pdf document, and view the multiple payment and license purchase information. Customers can update changes in phone number, office address, and bank account number in their profile details page with admin approval.
"Get a Quotation and buy 3CX products, at office or on road, instantly in Cal4Care CMS/Customer Mobile App" said, Adam, the Channel Manager.
Yes, it's as easy as it is said. Our mobile partners can now get a quotation and buy 3CX license with discounts directly through the mobile app. You can make a highly protected deal registration right away online, avail the discount offered to your 3CX partner ID, compare the live currency conversions in par with your country's currency and make an instant online purchase order. Purchase new license, upgrade existing license or order for annual/perpetual maintenance of license mentioning the edition.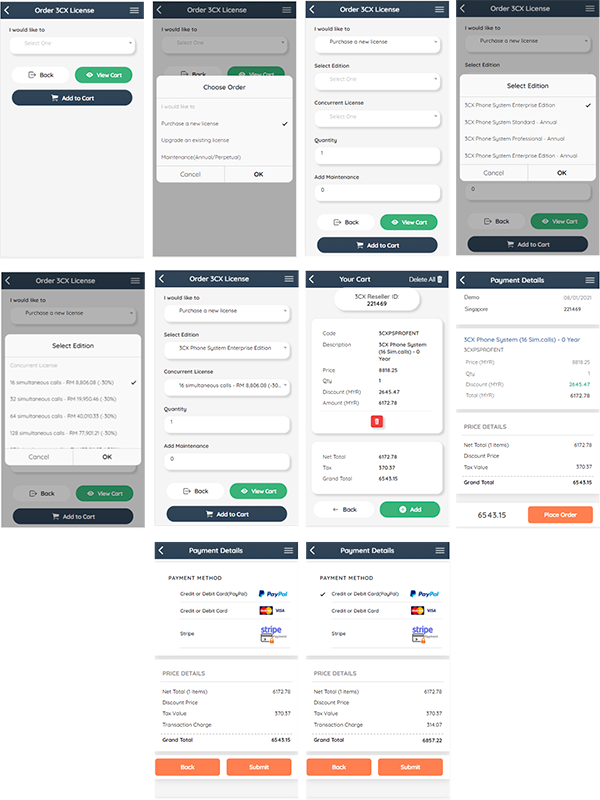 Cal4Care's contact number for various countries is made available for an immediate access on the dashboard. The excess payment details can be checked in Credit notes. The available advance amount can be verified in prepaid notes to make ready purchase orders or to reduce the bills for IP phone calls. You can also ensure all the facts and figures about your license key ownership such as the date and time of issue, expiry date, product and code, and also download the invoice pdf.
Before placing an order, have a look at the Terms tab, where the maximum amount you are allowed to make a purchase within the specified date is provided. Also inspect your call history. You can generate call history report for upto 6 months or for a specific date range and get to know call details and call cost. Manage your users by giving restricted individual permissions for "Invoice, Credit Note, License, Call history, User Management, 3CX Buy, and Dashboard Show".
Ask for instant help in Support Ticket tab. Create tickets or get to know how many tickets are unread, open, closed, total number of tickets created and number of closed tickets for the current and the previous month from the same platform. You can also mail to our support team or contact the helpdesk directly where you can open a new ticket, investigate the ticket status, or take a quick look at the FAQs.
What's more? We have a vibrantly colourful and dynamic dashboard that displays all the above mentioned features and takes you to the specific pages. You can also get to know the new announcements from Cal4Care for its clients in the dashboard itself.
Read on to get to know the QR scanner login process!
How to download and install Cal4Care CMS/Customer mobile app?
1. Login into CMS in web through the "Login" process
2. Go to the Footer and click on App Store for iOS and Google Play for androids
3. The scanner appears in a popup "Scan To Get IOS App" for iOS and "Scan To Get Android App" for Android.
4. Scan the QR code in your mobile. Cal4Care CMS/Customer app will get downloaded and can be installed in your mobile effortlessly.

How to download and install Cal4Care CMS/Customer mobile app?
Customer can login using two methods: Password Login & QR Code Login
Password Login Method:
1. Provide username and password. Then, click on "Send OTP".
2. OTP will be sent to your mail. Provide OTP and login.
Use fingerprint security:
Cal4Care CMS/Customer mobile app offers high end security. Provide your fingerprint once and safeguard your valuable data from people who steal a peep. If you forget to logout, no information will be displayed unless the finger print is provided again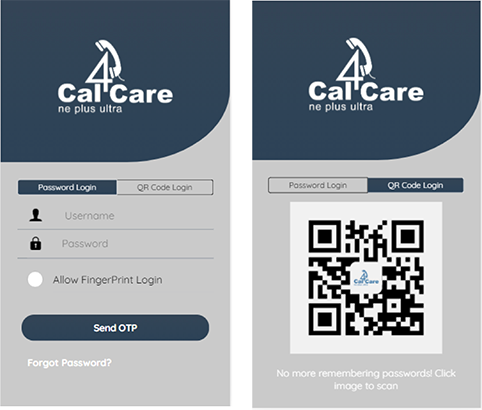 QR Code Login Method:
1. Login in your web.
2. Go to Footer and click on "Get QR" for QR Scanner.
3. User QR code will be displayed.
4. Now, click on the QR Code Login tab in your Cal4Care CMS/Customer mobile app.
5. The scanner will open. Then, scan the user QR Code displayed in the web and you will get logged-in.
How to login into Cal4Care CMS/Customer from mobile to web: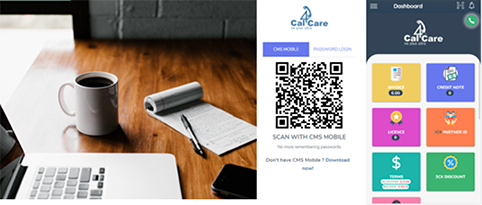 1. In Cal4Care CMS/Customer mobile app, click on QR scanner which is in App Header.
2. The scanner will open.
3. Scan against the QR code in the web login page
4. It will ask for the confirmation: "Do you want to login your web account?"
5. Click on "Yes". You will get logged in.
Start to explore the new ways to login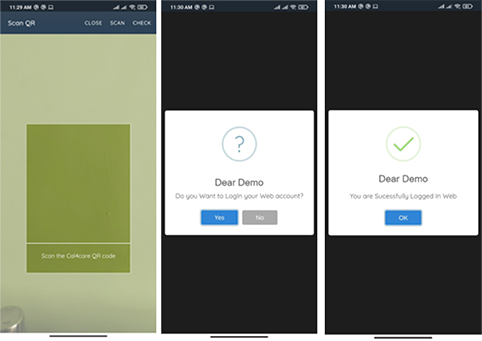 now!