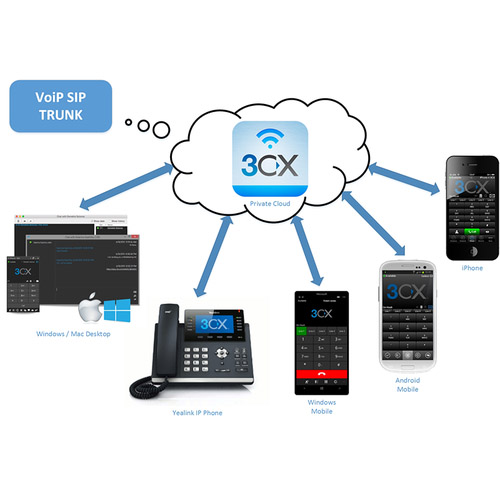 Business Communications Made Easy & Inexpensive!
With the pandemic becoming prevalent, more and more people are getting their tasks done at home. One of the key benefits is staying safe. But it is also important to consider the problems such as work-life balance, connectivity and productivity. However, the greatest hitch is collaboration.
There are many apps available in the market but most of them either have limited features or are very expensive. And there is always a snag about connecting properly with each other especially, when your teammates are using various apps. There is also the concern of revealing personal number and status. Further, there are issues of reliability and security.
The easy way to get rid of all the hassles attached to communication and the related cost is to choose 3CX apps. 3CX apps are the ideal communication tools for remote workers. The apps are compatible with iOS, Android, Laptop, and web client and are cost-effective.
"Communication is a strong barrier when your team is working from different locations. If you are in constant search for apps that would maximize productivity, improve the workflow and reasonably priced, then 3CX apps powered by Cal4Care technology are your only and the best choice…" – said Manikandan Chockalingam, Founder, Cal4Care Group.
Users can set availability statuses, make voice and video calls of uncompromised quality and transfer calls from their smartphone.
3CX completely supports SIP forking which means that the user can take the call from desktop phone and the softphone simultaneously without any forwarding rules. Even if you miss calls, you can check out the messages in the Voicemailer.
Instant messaging services help live communication between every team member and enable website chats. The user can also answer FaceBook chats.
Get instant notifications and make quick responses or if they are too much of a distraction, put them off. File sharing, PDF sharing and screen sharing are made easier than ever.
Conducting polls and collaboration with features like whiteboard is made simple. 3CX apps are integrated with WebRTC solutions. The stable and bug-free platform of 3CX empowers your remote teams to run video meetings and make one-to-one video calls. The user can also make group or one-to-one voice calls if face-to-face meetings are not necessary.
You can also send messages to team members and host webinars.
The apps can be used for e-learning. Distance learning has always been popular and now has become the dictum of the day. Online study can be easily carried out through web-meetings and students can learn without difficulties through our apps while not being present in their institutions.
You need not be a technical or technological expert to enjoy all these features. 3CX apps can be easily configured and can be readily used. You can login through QR scanning and can begin your work from the next second.
Start using 3CX apps now!